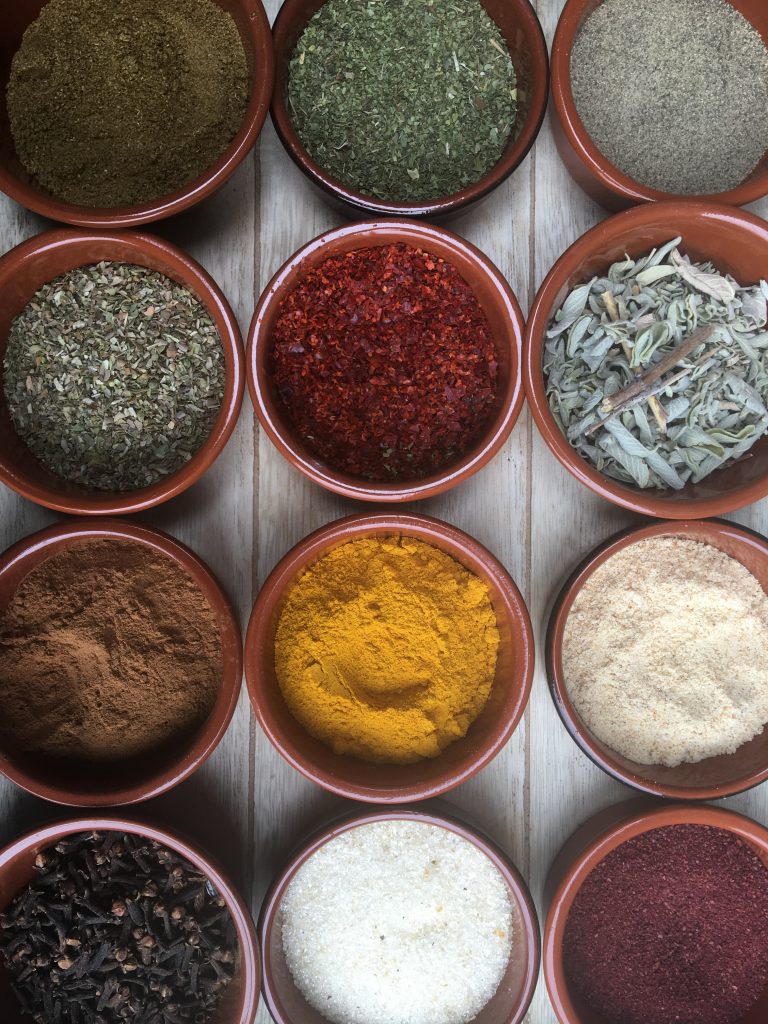 Why should you organize spices?
You need a good system to help you find and (more importantly) put away ingredients while you cook. 
When spices are disorganized, you overlook expiration dates, waste money on duplicates, and add unnecessary clutter to your kitchen.
3 systems for organizing spices
I've narrowed down the best methods for keeping your spices nice and neat, along with products that you can find on Amazon.
Click here to view all the products in this post.
Lay spices flat in a drawer
Hands down, a drawer is the best system for organizing spices. It's both beautiful and functional.
I love that you can quickly scan your inventory in one place, and pull out any jar without disturbing the others.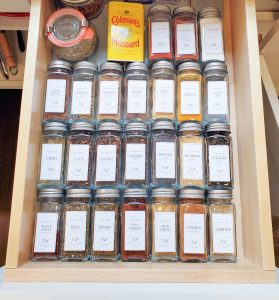 To keep glass jars from shifting or making noise, I find that a foam mat with channels works better than a traditional drawer liner.
This one, by YouCopia, comes in a large roll that you can cut to size.
If you want a more polished presentation, try a tiered organizer that expands to fit different drawer sizes.
Keep in mind that while it's easier to grab your spice jars with this solution, you'll need to purchase a uniform set of jars to get the most out of your drawer space.
Tip: to keep your spices from losing their potency, store them in a drawer that is away from your oven.
Stack spices in a cabinet
The next best option for spice organization is a stackable container in an upper cabinet.
I suggest the lowest shelf in your upper cabinet, because it keeps everything at eye level and gives you the most space to stack your jars.
This organizer, by Auledio, is a great example of stackable storage. Plus, it comes with uniform, minimalist labels.
Tip:  store infrequently used spices behind your stacked jars.
If you have especially shallow cabinets, take at look at this product by Simple Houseware.
You can stick these clips on the back of your cabinet door in a grid formation, or break them apart for a more custom solution.
These are such a great idea for small kitchens, I wish I had found them sooner!
Places spices in mobile storage
If you have very deep cabinets (like me), mobile storage is your best bet to organize spices.
What I mean by "mobile" is the ability to move all your spices at once instead of sifting through them one at a time.
With a turn table, you can quickly review your spices in place or relocate them to the counter while you cook.
A shallow, drop-down shelf is another way to get your spices closer to you.
If you have a wide cabinet, I suggest placing two of these shelves next to each other.
I like that a drop-down shelf doesn't take up counter space but still leaves room for more spices in the back of your cabinet.
Bonus points if you want to put a drop-down shelf in front of a turn table!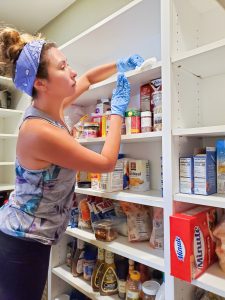 Did you find my organizing ideas helpful?
Let me know in the comments below!