A judgment-free walkthrough of your home, to discuss your goals and timeline. At the end of the session, I send you quote with a prioritized project plan.
Duration: 1 hour
Price: 100.00
Knock out a small project or kick-start a larger one.
Transform your home by getting consistent 1:1 guidance and productivity coaching.
Good for: kitchens, playrooms, master closets + bathrooms
Good for: estate sales, packing and purging, or 2 large projects
Good for: downsizing, whole-home unpacking and space set up
Take one or more rooms in your home from start to finish, without lifting a finger!
After an in-home consultation, I work independently to cross off everything on your wishlist. Includes space planning, a custom shopping list, storage designs from The Container Store (optional), and donation drop-off.
Clients must be available to complete homework assignments and answer questions between sessions.
Estimated hours are provided for scheduling purposes only.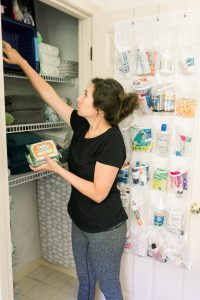 All organizing services include:
Decluttering

Space planning

1 carload of donation drop-offs per session

Work completed by a bonded and insured professional